Details
HKS Super Hybrid Filter
HKS high-performance Super Filters are a direct replacement for OE panel filters when a factory airbox is required or preferred. Super Filters feature the same 2-layer wet-type, polyurethane material as in the Super Mega Flow. The filter element is bonded to a flexible nylon frame and offers a price-friendly performance alternative to a full intake system.

Please select fitment from drop down menu.


Details of Filter
3 layered filter divides, collects intake air and smoothes air flow. It enables quick response that is required for sport filter.
Newly developed Non-woven fabric is the first layer that collects large dust. Second layer polyurethane filter collects small dust. Thus the new filter has longer life.
Joining of each layer was changed from flame lamination to net type joining that does not affect intake air flow. Dry 3 layer structure enables lower resistance.
Details of Frame
With high strength double frame, strong frame can be used for high horsepower.
Shape of re-designed top frame enables smooth air flow.
Separate shield frame is cushion type that does not require rubber gasket and easily disposable after use.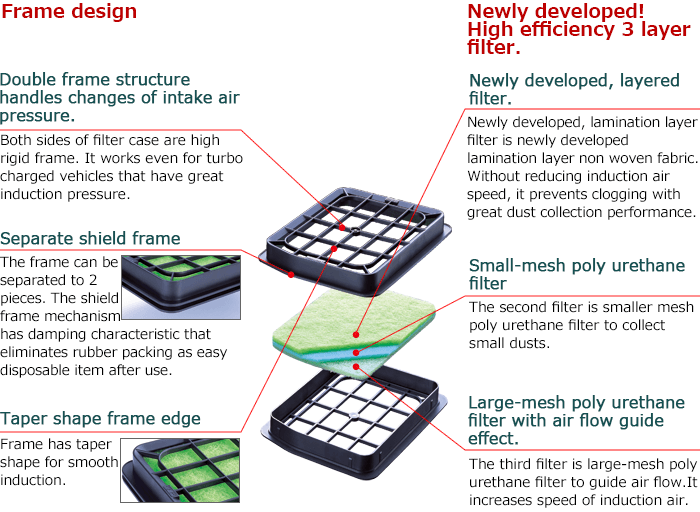 | | |
| --- | --- |
| Product Code | HKS-Panel |
| Consumer Price | No |
| Maximum Torque (Nm) | No |
| Content | No |
| Compression Ratio | No |
| Bore Size | No |
| Manufacturer | No |
| Engine Type | No |
| Manufacturer Website | No |
| Manufacturer Logo | No |
| Size (inch) | No |
| Color | No |
| Material | No |
| Urethane Stiffness | No |
| Approvals | No |
| TÜV Approval | No |
| Config Color | No |
| Diameter | No |
| Side left/right | No |
| Width | No |
| Length | No |
| Height | No |
This product fits on the following car models:
Subaru Impreza 1993-1997 4-door sedan 1.6 LX
Subaru Impreza 1993-1997 4-door sedan 1.6 GL
Subaru Impreza 1993-1997 4-door sedan 1.8 GL AWD
Subaru Impreza 1993-1997 4-door sedan 2.0 GL AWD
Subaru Impreza 1993-1997 4-door sedan 2.0 GT Turbo 555 AWD (EJ20G)
Subaru Impreza 1993-1997 4-door sedan 2.0 GT Turbo AWD (EJ20G)
Subaru Impreza 1997-1998 4-door sedan 1.6 LX
Subaru Impreza 1997-1998 4-door sedan 1.6 GL
Subaru Impreza 1997-1998 4-door sedan 2.0 GL AWD
Subaru Impreza 1997-1998 4-door sedan 2.0 GT Turbo 555 AWD (EJ20G)
Subaru Impreza 1997-1998 4-door sedan 2.0 GT Turbo AWD (EJ20G)
Subaru Impreza 1998-2000 4-door sedan 1.6 GL AWD
Subaru Impreza 1998-2000 4-door sedan 2.0 GL AWD
Subaru Impreza 1998-2000 4-door sedan 2.0 GT Turbo 555 AWD (EJ205)
Subaru Impreza 1998-2000 4-door sedan 2.0 GT Turbo AWD (EJ205)
Subaru Impreza 2000-2003 4-door sedan 1.6 TS AWD
Subaru Impreza 2000-2003 4-door sedan 2.0 GX AWD
Subaru Impreza 2000-2003 4-door sedan 2.0 WRX AWD (EJ205)
Subaru Impreza 2000-2003 4-door sedan 2.0 WRX AWD Unlimited (EJ205)
Subaru Impreza 2000-2003 4-door sedan 2.0 WRX STi AWD (EJ205)
Subaru Impreza 2000-2003 4-door sedan 2.0 WRX STi AWD Prodrive (EJ205)
Subaru Impreza 2003-2005 4-door sedan 1.6 TS AWD
Subaru Impreza 2003-2005 4-door sedan 2.0 GX AWD
Subaru Impreza 2003-2005 4-door sedan 2.0 WRX AWD (EJ205)
Subaru Impreza 2003-2005 4-door sedan 2.0 WRX STi AWD
Subaru Impreza 2005-2007 4-door sedan 1.5R AWD
Subaru Impreza 2005-2007 4-door sedan 1.5R AWD Edition
Subaru Impreza 2005-2007 4-door sedan 1.5R AWD Comfort
Subaru Impreza 2005-2007 4-door sedan 1.5R AWD Comfort Edition
Subaru Impreza 2005-2007 4-door sedan 2.0R AWD
Subaru Impreza 2005-2007 4-door sedan 2.5 WRX AWD (EJ255)
Subaru Impreza 2005-2007 4-door sedan 2.5 WRX AWD Edition (EJ255)
Subaru Impreza 2005-2007 4-door sedan 2.5 WRX STi AWD (EJ257)
Subaru Impreza 2005-2007 4-door sedan 2.5 WRX STi AWD Executive (EJ257)
Subaru Impreza 1993-1997 5-door stationwagon 1.6 LX
Subaru Impreza 1993-1997 5-door stationwagon 1.6 LX 4WD
Subaru Impreza 1993-1997 5-door stationwagon 1.6 GL
Subaru Impreza 1993-1997 5-door stationwagon 1.8 GL AWD
Subaru Impreza 1993-1997 5-door stationwagon 2.0 GL AWD
Subaru Impreza 1993-1997 5-door stationwagon 2.0 GT Turbo AWD (EJ20G)
Subaru Impreza 1997-1998 5-door stationwagon 1.6 LX
Subaru Impreza 1997-1998 5-door stationwagon 1.6 GL
Subaru Impreza 1997-1998 5-door stationwagon 2.0 GL AWD
Subaru Impreza 1997-1998 5-door stationwagon 2.0 GT Turbo AWD (EJ20G)
Subaru Impreza 1998-2000 5-door stationwagon 1.6 GL AWD
Subaru Impreza 1998-2000 5-door stationwagon 2.0 GL AWD
Subaru Impreza 1998-2000 5-door stationwagon 2.0 GT Turbo AWD (EJ205)
Subaru Impreza 2000-2003 5-door stationwagon 1.6 TS AWD
Subaru Impreza 2000-2003 5-door stationwagon 2.0 GX AWD
Subaru Impreza 2000-2003 5-door stationwagon 2.0 WRX AWD
Subaru Impreza 2003-2005 5-door stationwagon 1.6 TS AWD
Subaru Impreza 2003-2005 5-door stationwagon 2.0 GX AWD
Subaru Impreza 2003-2005 5-door stationwagon 2.0 WRX AWD (EJ205)
Subaru Impreza 2005-2007 5-door stationwagon 1.5R AWD
Subaru Impreza 2005-2007 5-door stationwagon 1.5R AWD Edition
Subaru Impreza 2005-2007 5-door stationwagon 1.5R AWD Comfort
Subaru Impreza 2005-2007 5-door stationwagon 1.5R AWD Comfort Edition
Subaru Impreza 2005-2007 5-door stationwagon 2.0R AWD
Subaru Impreza 2005-2007 5-door stationwagon 2.5 WRX AWD (EJ255)
Subaru Impreza 1997-2000 2-door coupe 2.0i Turbo (EJ205)
Subaru Impreza 1997-2000 2-door coupe 22B STi (EJ22G)
Mitsubishi Lancer Evolution 2001-2003 4-door sedan (EVO VII) 2.0i Turbo (4G63T)
Mitsubishi Lancer Evolution 2003-2005 4-door sedan (EVO VIII) 2.0i Turbo (4G63T)
Mitsubishi Lancer Evolution 2005-2007 4-door sedan (EVO IX) 2.0i Turbo (4G63T)
Mitsubishi Lancer Evolution 2005-2007 5-door stationwagon (EVO IX) 2.0i Turbo (4G63T)
Nissan Skyline 1989-1994 2-door coupe R32 GTS Type-X (RB20E)
Nissan Skyline 1989-1994 2-door coupe R32 GTS-25 Type-X (RB25DE)
Nissan Skyline 1989-1994 2-door coupe R32 GTS-t Type-M (RB20DET)
Nissan Skyline 1989-1994 2-door coupe R32 GTS-4 (RB20DET)
Nissan Skyline 1989-1994 2-door coupe R32 GTS-4R (RB20DET)
Nissan Skyline 1989-1994 2-door coupe R32 GT-R (RB26DETT)
Nissan Skyline 1989-1994 2-door coupe R32 NISMO S-Tune (RB26DETT)
Nissan Skyline 1989-1994 4-door coupe R32 GTS Type-X (RB20E)
Nissan Skyline 1989-1994 4-door coupe R32 GTS-25 Type-X (RB25DE)
Nissan Skyline 1989-1994 4-door coupe R32 GTS-t Type-M (RB20DET)
Nissan Skyline 1989-1994 4-door coupe R32 GTS-4 (RB20DET)
Nissan Skyline 1989-1994 4-door coupe R32 GTS-4R (RB20DET)
Nissan Skyline 1989-1994 4-door coupe R32 GT-R (RB26DETT)
Nissan Skyline 1989-1994 4-door coupe R32 NISMO S-Tune (RB26DETT)
Nissan Skyline 1993-1998 2-door coupe R33 GTS (RB20E)
Nissan Skyline 1993-1998 2-door coupe R33 GTS25 (RB25DE)
Nissan Skyline 1993-1998 2-door coupe R33 GTS-4 (RB25DE)
Nissan Skyline 1993-1998 2-door coupe R33 GTS25T (RB25DET)
Nissan Skyline 1993-1998 2-door coupe R33 GTR (RB26DETT)
Nissan Skyline 1993-1998 4-door coupe R33 GTS (RB20E)
Nissan Skyline 1993-1998 4-door coupe R33 GTS25 (RB25DE)
Nissan Skyline 1993-1998 4-door coupe R33 GTS-4 (RB25DE)
Nissan Skyline 1993-1998 4-door coupe R33 GTS25T (RB25DET)
Nissan Skyline 1998-2002 2-door coupe R34 GT (RB20DE NEO)
Nissan Skyline 1998-2002 2-door coupe R34 25 GT (RB25DE NEO)
Nissan Skyline 1998-2002 2-door coupe R34 GT-FOUR (RB25DE NEO)
Nissan Skyline 1998-2002 2-door coupe R34 GT-T (RB25DET NEO)
Nissan Skyline 1998-2002 2-door coupe R34 GT-R (RB26DETT)
Nissan Skyline 1998-2002 4-door coupe R34 GT (RB20DE NEO)
Nissan Skyline 1998-2002 4-door coupe R34 25 GT (RB25DE NEO)
Nissan Skyline 1998-2002 4-door coupe R34 GT-FOUR (RB25DE NEO)
Nissan Skyline 1998-2002 4-door coupe R34 GT-T (RB25DET NEO)
Toyota Altezza 1999-2005 4-door sedan 1.0 (ECA1 - ZE1)
Lexus IS 1999-2005 4-door sedan IS 200 (1G-FE)
Lexus IS 1999-2005 4-door sedan IS 200 Sport (1G-FE)
Lexus IS 1999-2005 4-door sedan IS 300 Sport (2JZ-GE)
Lexus IS 1999-2005 4-door sedan IS 300 (2JZ-GE)
Lexus IS 2001-2005 4-door sedan IS 200 SportCross (1G-FE)
Lexus IS 2001-2005 4-door sedan IS 300 SportCross (2JZ-GE)